SOLID EPDM PROFILES EXPORTERS INDIA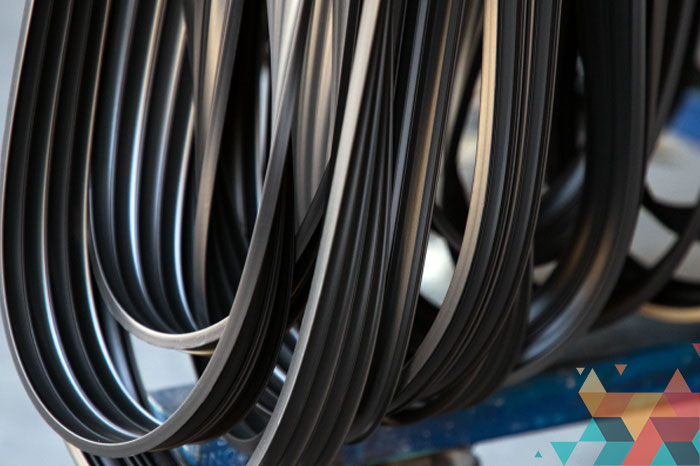 EPDM (Ethylene propylene diene methylene) is used extensively in making several products. Starting from radiator hoses in the cars to the appliance hoses, there are a lot of things made using EPDM. In the beginning, EPDM was used just to make the RV roofs for fountains and ponds. EPDM has gained a lot of success because of its superb characteristics like powerful resistance to cold and heat. EPDMs also act as the barrier to ozone and UV.
What makes EPDM so useful?
EPDM is a polymer with exceptional properties. Solid EPDM Profiles are not only water, chemical and ozone resistant but highly resisted to aging as well. Also, this type of polymer is extremely versatile. Thus, it is used in various different industries like automotive, roofing, equipment etc. Also, EPDM is used to make grommets, seals and O-rings as well. It is highly resistant against acids, weathering and Alkali's. EPDM is considered pretty economical and it is flame retardant as well. It has a high tensile strength. Also, EPDM is tear resistance.
Solid EPDM profiles
EPDM profiles India are extremely strong and resistant. They are used in uPVC, bus body sealing, aluminum facades, structural Facades etc. As mentioned above also, EPDM is a superb weathering and UV resistant material. Also, it has excellent compression set and thermal insulating characteristics. This is the reason why it is extremely efficient in sealing against dust, water and wind. Solid EPDM profiles are used extensively for sealing purposes due to their properties. The great level of ozone resistance make them highly sustainable and durable. Fusion Polymers makes world-class EPDM profiles in India by using cutting-edge technology. We use the process of microwave curing via continuous vulcanization to make high-quality EPDM profiles.
Sponge EPDM profiles
Sponge profiles are manufactured from expanded EPDM. We manufacture a wide variety of EPDM sponge profiles for various industries. We are one of the prime leaders of manufacturing Closed Cell Sponge profiles. These Sponge EPDM profiles are superb for sealing. They are not only tremendously elastic. Also, they have non-porous outer membrane. They have aesthetically superb finish. We are a prominent EPDM Profile manufacturers. We make Sponge EPDM Profiles with expanded density of 0.4 to 0.9 g/cm3. Our products are used across a wide range of industries globally. Also, we are a prominent EPDM profile exporters known for our high quality of products.
What makes Fusion Polymer Industries your top choice?
Fusion Polymers is one of the leading EPDM profile manufacturers and exporters in the world. We make high-quality closed cell EPDM sponge. Also, we cater to the specific needs of different clients. What makes us a top choice of the market is the fact that we use high-end technology to make the EPDM profiles India. Also, we have an in-house team of experienced and talented experts. Our staff is trained to understand your customization requirements and cater to your specific needs.
Fusion Polymer's closed cell structure is resistant to air and water. They are the best material for sealing. Our polymers are tremendously durable, have superb UV resistance qualities and they can withstand a wide temperature ranges. Also, they are pretty cost-effective.
Sr. No. 133/1, Plot No. 22, Nr. Advance Techno Forge, B/h Ishwar Weight Bridge, Padavala, Sapar-Veraval, Rajkot-360024, Gujara, India.